Use RotoTracker to Keep Track of Your Lifetime Buy-ins On DraftKings
DraftKings has a new rule that restricts high-volume players.
Beginning August 1, 2017, DraftKings implemented a new rule that restricts players with over $1 million in lifetime entry fees from entering all contests with a buy-in under $5 and a prize pool of less than $25,000.
If you're interested in how close you are to this $1 million marker, RotoTracker can help out. You can get your lifetime fees stat right on the dashboard with just a couple of clicks:
You can also do this from the Dates report — again, just make sure you filter to DraftKings if you play on more than one site:
And if you want to know what the impact will be if you hit this level, you can using RotoTracker's advanced filters. Filter to tournaments with a buy-in less than $5 and with a prize pool less than $25,000, to see at-a-glance how well you have performed in these games!
There's more we can do here, and we'll look to add even more functionality that will help you react to this change. Stay tuned!
---
---
Published on August 02, 2017
RotoTracker Adds First-Class Support for WNBA Contests Results from Fanduel and DraftKings
DraftKings only added WNBA at the weekend, but we're on the ball!

Over the weekend, DraftKings added support for WNBA, and we've updated RotoTracker to best handle it. We have also now added the WNBA 2017 season in your season filter dropdown.
This follows on from an update in May to correctly import Fanduel WNBA results. So we can now say confidently that we have best-in-class support for the sport that's proving popular with DFS fans!
Customers who imported DK WNBA data from over the weekend will have seen that entries imported fine, but they were classified as NBA rather than WNBA. That's not ideal; fans of the sport will know that FanDuel added WNBA back in May, and these were correctly categorized as a separate WNBA sport.
So we updated RotoTracker to correctly classify these results from DK. Going forward, any WNBA contest result you import will be correctly grouped as WNBA. We also retroactively re-classified all imports from the weekend for all our customers who entered DraftKings' first WNBA contests.
Technical side note: The DraftKings CSV file reports the entry as NBA, so to get this working, we are also analyzing the contest title to look for a mention of WNBA. Right now this is very effective (all WNBA contests from the weekend handily start "WNBA... ") but moving forward DraftKings might mix up their titles and we will need to update our importer. We'll keep in eye on it, but if you see a misclassified contests please let us know!
---
Published on July 11, 2017
RotoTracker Enhancements to Help with Your End of Season Analysis
Behind the scenes we've been quietly working on a host of new features, improvements and bug fixes.
We might have been a bit quiet on the official blog and social media channels over the last six months, but that doesn't mean we've been resting on our laurels! We've been quietly making some important changes to RotoTracker to improve the platform and deliver new features.
Many of these have been internal — improving our backend infrastructure and upgrading various internal platforms. Boring stuff, but important to prepare us for the new season and take RotoTracker to even bigger and better places!
But we've also made some important front-end changes which hopefully you've been enjoying the last few days and weeks. Here's a summary of some of the more important updates:
Collapsable Filters
The filters sidebar can now be hidden away, giving you more space to explore your data. Particularly useful for graphs. Here's how it works: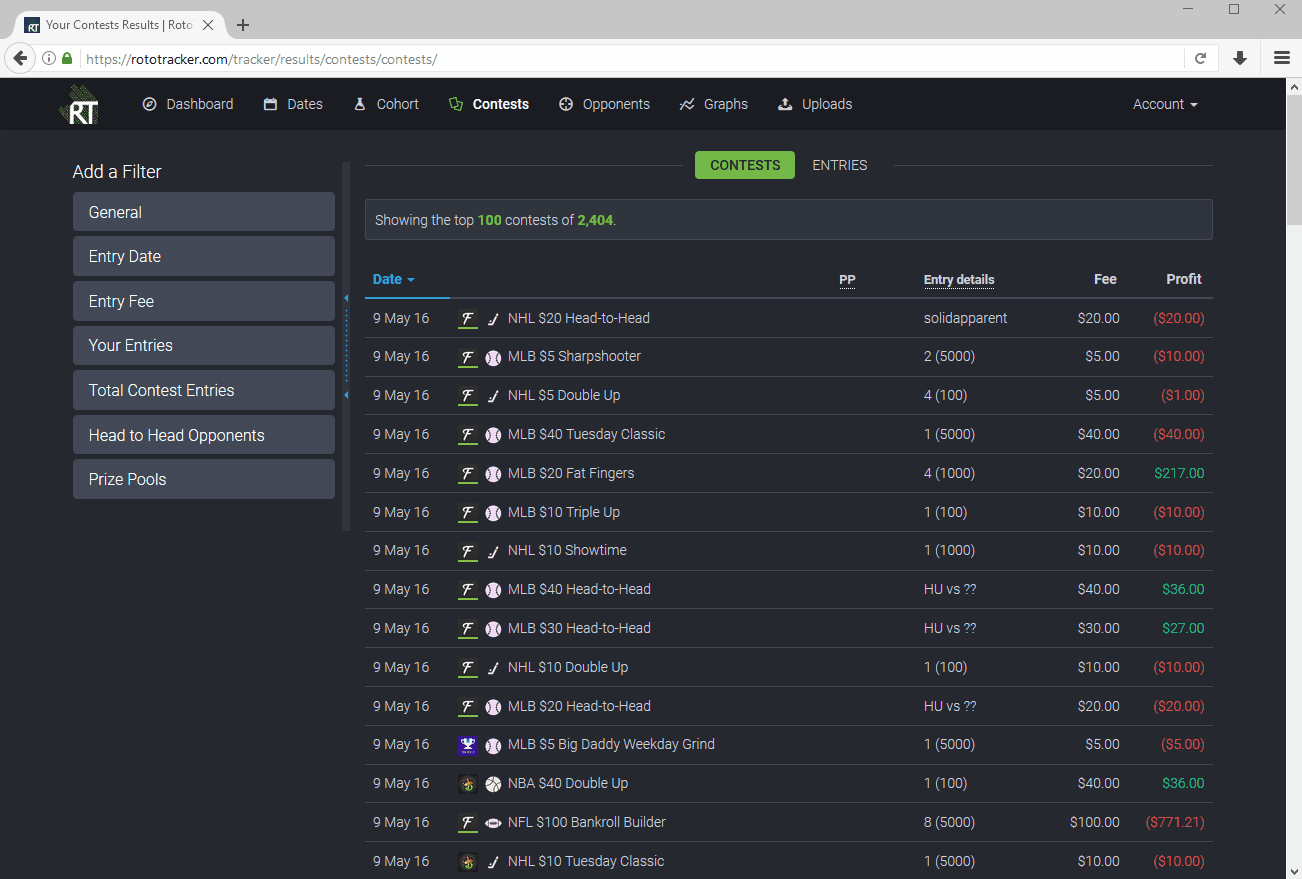 New "Dates" Section with Sortable Month and Year Reports
We've had a bit of a reorganization. The "Overview" tab has now been renamed "Dates," and the old Cohort reports for Month and Year have now been moved to sub-sections of this part of the site. It makes more logical sense to keep these separate from the regular cohorts and gives us space to expand with new reports in the future.
We also made the Month and Year reports fully sortable — every column can be sorted up and down. So you can now quickly see, for example, your most profitable month, or the one with the most activity: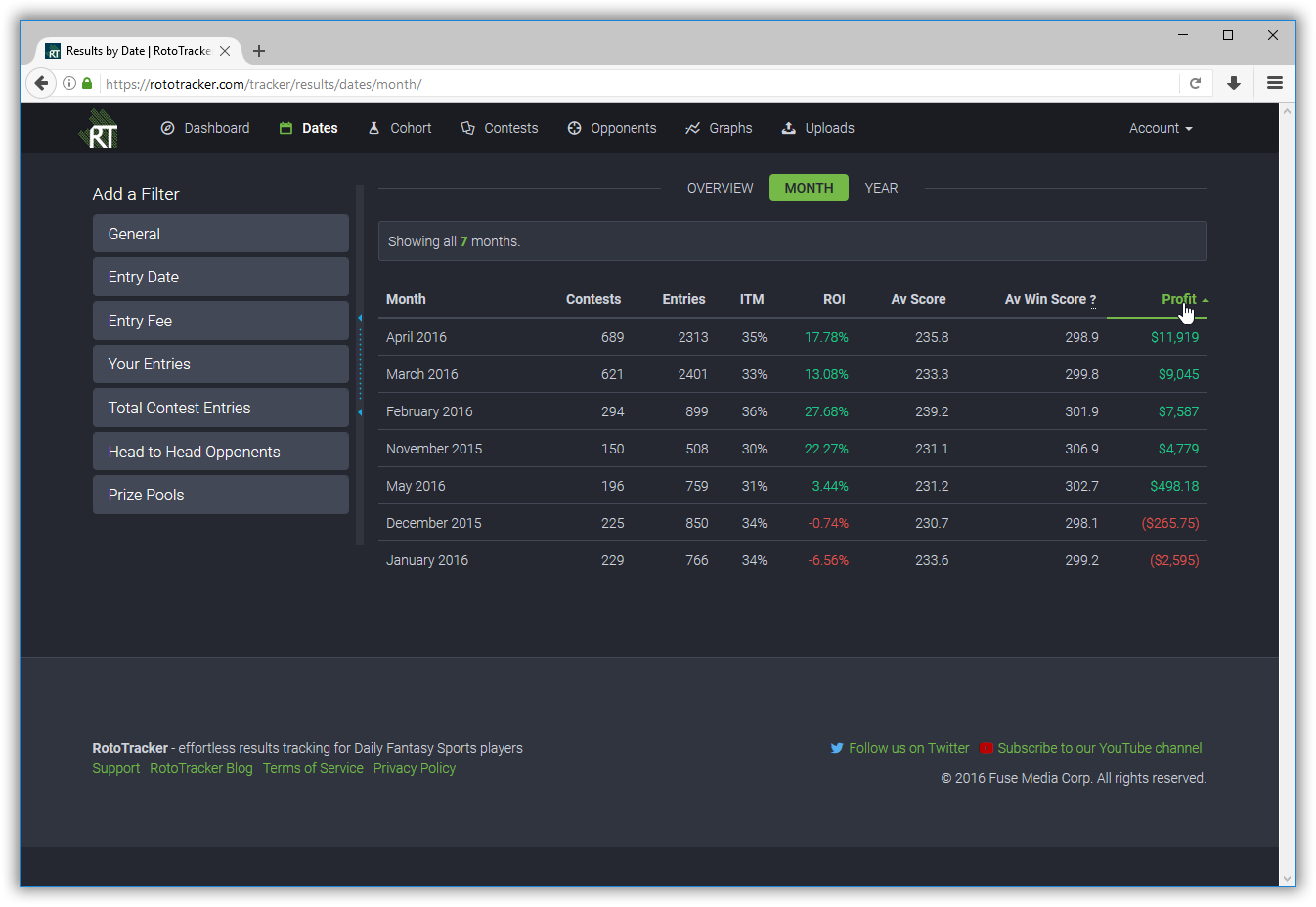 New Prizepool Filters
We recently added a new filter for prize pools which, as the name suggests, gives you the power to filter all reports by the total prize pool of the contest.
Prize pool information, unfortunately, isn't perfect — DraftKings is the only site that consistently outputs this in the CSV file. However, RotoTracker makes a concerted effort to work out the prize pool from the title, so for most contests, this should be accurate. You can read more about this in a new FAQ on the topic.
We also recently made minor changes to contests that are flagged as having "no win data" — that is, a contest entry where it was not possible to ascertain if you won or lost the contest. In these cases, the contests are removed from aggregate reports (all reports under the "Dates" and "Cohort" report), so as not to skew ITM and ROI figures. You can read more about this in this new FAQ. There is also a new filter where you can view all contests that are categorized in this way.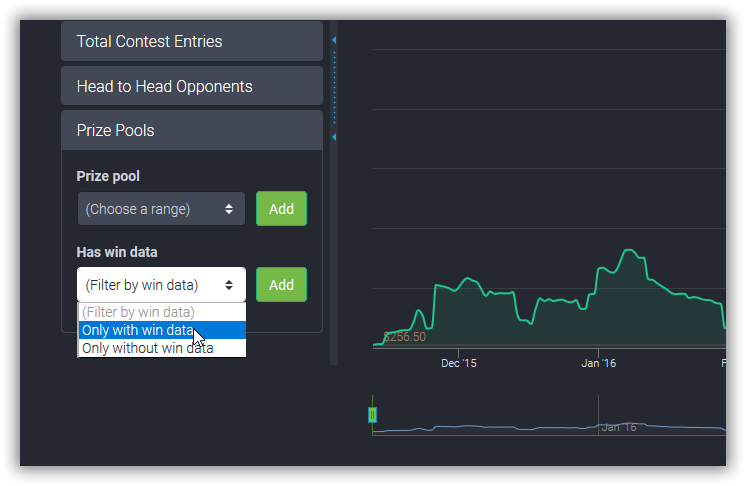 Other Changes
There's been over two dozen smaller improvements and fixes over the last few months, including:
Improvements to our head-to-head support for DraftKings. We emailed you about this at the time — more information here. We believe that RotoTracker remains the only tool around to handle the new CSV format correctly so you get the most accurate opponent analysis for DraftKings!
Support for WNBA contests.
Visual improvements to the blog.
Fixes for a rare duplication issue for Fanduel imports using the RotoTracker Sync browser extension.
Fix for new FantasyDraft head-to-head CSV format.
Graph improvements and bug fixes.
Opponent report sorts name A>Z by default.
Coming Up
We have a lot more exciting changes in the pipeline that we will be rolling out over the summer. So stay tuned to the blog, and keep an eye on the mailing list!
---
Published on June 28, 2017
The Perfect Holiday Present For Anyone Who Loves DFS
Buy RotoTracker as a present this holiday season.
Looking for a present this holiday season for the DFS player in your life? Not sure what to buy them or where to start looking? Well look no further then RotoTracker-- we've got this covered.
RotoTracker is the affordable DFS bankroll tracker for DFS players of all abilities to help them hone their game selection and help them find their strenghts and weaknesses -- making it the perfect present this holiday season.
Considering most DFS players already have subscriptions to line up generators and projection tools, RotoTracker will add be another valuable resource in their arsenal, as no other bankroll tracker on the market offers the same breadth and depth as our analytics.
All you need to do is sign up then buy a RotoTracker subscription and email us at [email protected] with the email address of the person you want to have access. We can then make sure they are affiliated to your account -- which will grant them access to RotoTracker for the lenght of the subscription you have chosen.
Any questions, or not sure what type of subscription to buy for your DFS loved one, then no worries-- just email us and we will get back to you as soon as possible.
Happy Holidays!
---
Published on December 06, 2016
Changes to FanDuel's CSV Files for Soccer Contests
Now soccer results are presented by the league: EPL and UEFA Champions League.
In the last week, we were notified that Fanduel have changed how soccer results were presented in their CSV files. Before, all soccer games were identified simply by one "soccer" sport; now they have changed to specify the league - EPL and UEFA Champions League.
This temporarily broke our importer, and for the last week these EPL and Eufa contest results were skipped over. We have just now updated RotoTracker so that these new records are detected correctly as soccer contests.
To get your data up to date, you just need to re-upload a Fanduel file with the last week's soccer contests. Your soccer results that were skipped before will now import correctly. (The only caveat: The RotoTracker Sync browser extension will likely skip over these, so the best way is to just manually upload your last file to make sure anything in the last week imports correctly).
This is a quick fix to ensure that all your results are up to date. Moving forward, now that Fanduel correctly identifies the different leagues in the CSV file, we'd like to handle this better in RotoTracker so you can filter by different soccer leagues.
Stay tuned for that.
---
Published on November 28, 2016